Realtor Benefits
Top 10 Reasons for Realtors to Work With Inspectors Now
At Inspectors Now, we appreciate building relationships with Realtors in the area and providing exceptional service to all of your customers in need of home inspections.
I understand that if you, as the Realtor, recommend Inspectors Now, I'm representing us both professionally and we are both representing the client.
I understand that I'm not there to just write a report.  It is also my job as a home inspector to properly communicate any issues that I might find with a property to the owner.
As a Florida licensed general contractor, I have a unique perspective of how things are built and possible issues that may arise.  More importantly I still build and remodel, so I'm up to speed on current building methods and products.  Keeping informed on building techniques helps me better explain or recommend possible fixes that might need to be made.
And if fixes do need to be made, my company, Acclaim Service Group, offers repairs, remodeling, and new construction of all kinds.  We can make things easier for you by being your one-stop shop for home inspections AND home repairs.  Learn more about Acclaim Service Group's offerings.
I show up on time and ready to work.
I carry all proper licenses and insurance.  I can also issue a Certificate of Insurance with additional insured endorsement as requested, at no cost to you.
I'm a nice guy and easy to get along with.
Give me 10% of your confidence, and I'll earn the other 90%.
In return for your partnership, Inspectors Now can help you provide value-added services to your customers.
As new recalls are announced each month, RecallChek notifies clients whether or not there are any new recalls on their appliances, and Inspectors Now provides a FREE lifetime membership to our home inspection, condo inspection and multi unit inspection customers. RecallTrak gives you, the agent, the ability to customize a newsletter-style email providing this valuable information to your clients. Once registered, you can preview the newsletter being sent out each month, customize a section of the newsletter reserved exclusively for agents, and even upload a picture of yourself to put on the newsletter.
How it works: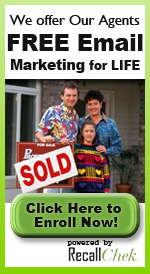 1. Register for RecallTrak by clicking the image to the left.
2. Add your contact information and upload a logo or photo of yourself.
3. As a RecallTrak Registered Agent, you have the option to customize the newsletter in a Constant Contact style marketing email and manage your contacts in your account.